Details for the 2021 United Trailers Golf Classic in memory of Kevin Gobrecht are in!:
4 Person Preferred Ball
Date: Friday, August 13, 2021
Time: Registration Begins at 8AM, Shotgun Start at 9AM
Location: Bos Landen Golf Club in Pella, IA
Cost for this event is $90 per person or $360 for a group of 4 people. Price includes green fees, gold cart, and lunch. In addition, a beverage cart will also be available. You can register by visiting: United Trailers Golf Classic – www.SprintCarGolf.net. Registration ends on August 7, 2021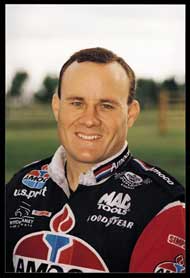 Every year, we team up with the National Sprint Car Hall of Fame & Museum to sponsor this event honoring Kevin "The G-Man" Gobrecht. Gobrecht (1966-1999) started racing at just 8 years old and went on to gain recognition far and wide within the race community during his 22-year career of hard work and motivation. This golf classic is just one of several annual events dedicated to celebrating his contributions to the racing community.
Here are a few of Gobrecht's career highlights:
270 Micro Wins: 101
410 Sprint Wins: 21
All Stars Wins: 1 (1996)
World of Outlaw Wins: 1 (1999)
Championships: 3 (1990,1992)
Awards: 1995 Rookie of the Year
Biggest Win: The Big One (1999)
To learn more about Gobrecht's stats, career, life, and more, check out his tribute website: https://www.kevingobrecht.com.
United Trailers is the official trailer manufacturer for both the Holley NMRA Ford Nationals Series and the NMCA Muscle Car Nationals Series! Furthermore, the official trailer distributor is our #1 dealer, Jason Dietsch Trailer Sales. We collaborated with Jason to create two fully-customized trailers that will be used in several national NMRA and NMCA events. We greatly appreciate this opportunity to support the racing community. Check out this article to learn more about the trailers and the respective series: Race Pages Digital
– Mission –
To improve the safety of the nation's roadways by raising trailer safety awareness through education of end users, dealers, and manufacturers on safe trailering practices.
What is Trailer Safety Week?
Trailer Safety Week is an annual nation-wide awareness campaign aimed at:
Increasing awareness of the importance of being committed to trailer safety
Educating end-users about proper trailer maintenance and usage
Creating a stronger partnership and alliance between stakeholders of the industry including trailer dealers, manufacturers, and end-users
---
When does Trailer Safety Week happen?
Although trailer safety is important to focus on 365 days a year, Trailer Safety Week will officially take place June 7-13, 2020.
---
Why is there a Trailer Safety Week?
End-users are vastly under-educated on the proper use of trailers, and it is crucial to utilize the connections that dealers and manufacturers have with consumers in order to raise awareness of proper towing techniques and maintenance.
With millions of trailers traversing the nation's roadways every day and being used by businesses, local governments and individuals for recreational purposes it is crucial to ensure that trailers are being towed safely for the sake of everyone on the roads.
---
How does one get more information about Trailer Safety Week?
☏ 785.272.4433 | ✉ TrailerSafetyWeek@natm.com