Details for the 2021 United Trailers Golf Classic in memory of Kevin Gobrecht are in!:
4 Person Preferred Ball
Date: Friday, August 13, 2021
Time: Registration Begins at 8AM, Shotgun Start at 9AM
Location: Bos Landen Golf Club in Pella, IA
Cost for this event is $90 per person or $360 for a group of 4 people. Price includes green fees, gold cart, and lunch. In addition, a beverage cart will also be available. You can register by visiting: United Trailers Golf Classic – www.SprintCarGolf.net. Registration ends on August 7, 2021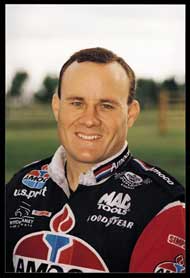 Every year, we team up with the National Sprint Car Hall of Fame & Museum to sponsor this event honoring Kevin "The G-Man" Gobrecht. Gobrecht (1966-1999) started racing at just 8 years old and went on to gain recognition far and wide within the race community during his 22-year career of hard work and motivation. This golf classic is just one of several annual events dedicated to celebrating his contributions to the racing community.
Here are a few of Gobrecht's career highlights:
270 Micro Wins: 101
410 Sprint Wins: 21
All Stars Wins: 1 (1996)
World of Outlaw Wins: 1 (1999)
Championships: 3 (1990,1992)
Awards: 1995 Rookie of the Year
Biggest Win: The Big One (1999)
To learn more about Gobrecht's stats, career, life, and more, check out his tribute website: https://www.kevingobrecht.com.
United Trailers is the official trailer manufacturer for both the Holley NMRA Ford Nationals Series and the NMCA Muscle Car Nationals Series! Furthermore, the official trailer distributor is our #1 dealer, Jason Dietsch Trailer Sales. We collaborated with Jason to create two fully-customized trailers that will be used in several national NMRA and NMCA events. We greatly appreciate this opportunity to support the racing community. Check out this article to learn more about the trailers and the respective series: Race Pages Digital
– Mission –
To improve the safety of the nation's roadways by raising trailer safety awareness through education of end users, dealers, and manufacturers on safe trailering practices.
What is Trailer Safety Week?
Trailer Safety Week is an annual nation-wide awareness campaign aimed at:
Increasing awareness of the importance of being committed to trailer safety
Educating end-users about proper trailer maintenance and usage
Creating a stronger partnership and alliance between stakeholders of the industry including trailer dealers, manufacturers, and end-users
---
When does Trailer Safety Week happen?
Although trailer safety is important to focus on 365 days a year, Trailer Safety Week will officially take place June 7-13, 2020.
---
Why is there a Trailer Safety Week?
End-users are vastly under-educated on the proper use of trailers, and it is crucial to utilize the connections that dealers and manufacturers have with consumers in order to raise awareness of proper towing techniques and maintenance.
With millions of trailers traversing the nation's roadways every day and being used by businesses, local governments and individuals for recreational purposes it is crucial to ensure that trailers are being towed safely for the sake of everyone on the roads.
---
How does one get more information about Trailer Safety Week?
☏ 785.272.4433 | ✉ TrailerSafetyWeek@natm.com
The annual PRI Trade Show takes place December 12-14, 2019 at the Indiana Convention Center in Indianapolis Indiana.
The week leading up to and including the PRI Trade Show is known as Race Industry Week. Over 45 conferences, seminars and social gatherings provide PRI attendees countless opportunities to learn, engage with industry experts and have some fun along the way. See specific Race Industry Week event times and locations hereh.
Note: The PRI Show is a trade-only event and not open to the general public.
2019 Exhibit Hours
Thursday, December 12 ········· 9:00 a.m. – 5:00 p.m.
Friday, December 13 ············· 9:00 a.m. – 5:00 p.m.
Saturday, December 14 ········· 9:00 a.m. – 4:00 p.m.
Thursday, December 12 ········· 9:00 a.m. – 5:00 p.m.
Friday, December 13 ············· 9:00 a.m. – 5:00 p.m.
Saturday, December 14 ········· 9:00 a.m. – 4:00 p.m.
New! Lucas Oil Stadium Exhibit Hours
Indoor Trailer & Featured Product Showcase
Thursday, December 12 ········· 8:00 a.m. – 5:00 p.m.
Friday, December 13 ············· 8:00 a.m. – 5:00 p.m.
Saturday, December 14 ········· 8:00 a.m. – 4:00 p.m.
Exterior Metal Surfaces
The exterior metal surfaces of your trailer are painted with coatings that are combined for lasting color, clarity and durability. However, standard maintenance is still required.
In the case of light surface dirt, standard rainwater will usually be satisfactory. If there is a heavier layer of dirt and road grime that rain does not remove, you may need to use a normal solution of water and a household detergent. A soft brush with light pressure may be used and always follow the washing with a thorough clear water rinse.
In the past couple of years, it has come to our attention that many states and local governments are using chemicals on the road that are cost effective for them to keep the highways free of snow and ice. These chemicals may cause reactions to both your exterior metal paint and undercoating's used on your trailer. In some states the wiring has also been affected. Please call your local government and find out what they may be using and what they recommend to remove those chemicals before they cause damage to your trailer.
General Cautions/Warnings
Over cleaning or scrubbing of a coated metal surface can do more harm than good to the life of the metal and its finish. Solvent and abrasive type cleaners should be avoided.
Roof Maintenance
Check your roof before every trip for debris from trees or buildings. Check the roof sealant for any holes caused by the debris. It is recommended that you reseal your roof every two years as a standard maintenance procedure.
Axle and Tire Maintenance
Your trailer is no different than your car when it comes to proper maintenance of axles and tires. You need to have the axle greased and the brakes checked. See your owner's manual for more information.
If your trailer has brakes, check the breakaway switch and its battery to make sure your vehicle has been charging the battery. If your trailer has sat for any length of time, that battery may need to be charged before your trip to ensure your safety.
Check for proper tire pressure before every trip. Also, check the lug nuts and make sure that they are also torqued at the proper torque rating for your trailer. See your owners manual for the correct torque rating for your wheels. Check to make sure the tire tread is wearing properly as well. Your trailer is equipped with trailer tires; most trailer tires are designed to be ran at no more than 60 mph, which is the maximum speed for towing a trailer. Faster speeds may cause the tires to overheat and cause a blowout which could result in serious injury or even death.
Towing involves the interaction of a number of components; the driver, tow vehicle, and trailer. Each of these contributes to the towing experience and safety of the combination. The driver is responsible for selecting the proper tow vehicle and trailer for the load, properly hitching the trailer, properly loading and securing cargo, and properly operating the tow vehicle including operating the combination at the appropriate speed, steering, and braking. The overall towing experience is greatly improved by choosing a tow vehicle with the appropriate brakes, tires, mirrors, hitches, etc. for the intended trailer. The trailer components should be appropriate for the trailers intended use including appropriate brakes, tires, axles, lighting and more. Safe and proper driving habits are a crucial component of overall trailer safety. Drivers should always maintain focus while operating a motor vehicle and eliminate distractions
Pre-Departure Checklist
Check and correct tire pressure on the tow vehicle and trailer, including the spare tire
Make sure the wheel lug nuts/bolts on the tow vehicle and trailer are tightened to the correct torque
Be sure the hitch, coupler, draw bar and other equipment that connects the trailer and the tow vehicle are properly secured and adjusted
Make sure the safety chains are properly crisscrossed and connected, not touching the road but with enough slack to make turns
Check that the wiring is properly connected; not touching the road, but loose enough to make turns without disconnecting or damaging the wires.
Make sure all running lights, brake lights, turn signals and hazard lights are working
Verify that the brakes on the tow vehicle and trailer are operating correctly
Ensure the breakaway system lanyard is connected to the tow vehicle but not to the safety chains or ball mount
Check that all items are securely fastened on and in the trailer
Be sure the trailer jack, tongue support and any attached stabilizers are raised and locked in place
Check load distribution to make sure the tow vehicle and trailer are properly balanced front to back and side to side
Check side- and rear-view mirrors to make sure you have good visibility
Check routes and restrictions on bridges and tunnels
Make sure you have wheel chocks and jack stands
Speed
Slow down and create longer following distances between you and the vehicle in front of you. Most states have a speed limit of 55 when towing. According to U-Haul, towing while maintaining speeds over 55 mph can consume 35% more gasoline. Slowing down is not only safer, it is more economical.
Stopping
On trailer models with brakes installed, the combination will require a greater stopping distance with a trailer in tow than the tow vehicle requires while operating by itself. Likewise, even smaller trailers that do not require brakes will require longer stopping distances for the combination than the tow vehicle requires while operating by itself. Even with adequate trailer brakes, if applicable, the tow vehicle will still have a greater stopping distance with a trailer attached. It takes experience for drivers to become comfortable with the difference between the way their vehicle handles by itself, versus the way the vehicle handles while towing a trailer loaded with cargo.
For following distances, a general rule of thumb is at least a 325 foot gap (about 5 seconds) between your vehicle and the vehicle or obstacle in front of you. Prolonged use of brakes can cause overheating and loss of brake effectiveness. Giving yourself ample space to respond should help prevent frequent and/or hard braking.
Turning
The turning radius of your vehicle will increase with a trailer attached. A gooseneck or fifth wheel attachment has a tighter turn radius than a traditional ball mount attachment.
When turning, swing the tow vehicle wider, giving yourself ample room for curbs, corners, or any other obstacles on the inside corner.
Hills
While traveling both uphill and downhill, slow down and shift into a lower gear. While traveling downhill, reducing your speed will help stabilize your vehicle and trailer combination.
Backing Up
Backing up can be the most difficult aspect of trailering. If possible, have another individual acting a spotter to aid with blind spots.
The trailer will move the opposite direction of the tow vehicle when backing up. The best method is to hold the bottom of the steering wheel. To turn left you move your hand to the left and to turn right you move your hand to the right.
Single axle trailers will cut more rapidly than tandem axle trailers. If you find you are turning too far, have jackknifed, or are otherwise situated incorrectly, pull forward and start again.
Once parked, make sure to have blocks ready for the trailer tires, avoid parking on slopes, and apply the parking brake. If the trailer is to be unhitched, unload the cargo first. Then make sure safety chains and the pin connector/electrical plug are disconnected.
Crosswinds
Decreasing speed and steering straight will lessen the effects
Passing
Passing in a combination (tow vehicle and trailer) will take more time and more distance to pass. As with driving a car, do not pass on a hill or curve as you will need to ensure there is plenty of clear roadway ahead. Your larger vehicle combination has a larger impact on airflow and will cause both your vehicle and the vehicle being passed to sway or move more than usual, plan accordingly, ensuring enough roadway space for both vehicles.
Respond To Sway
Gas off, brake off, steer straight and wait.
DO NOT attempt to control sway by turning the steering wheel as it will only make the issue worse. If you have a brake controller, gently apply only the trailer brakes.
For the first time ever, the PRI Trade Show will feature exhibits and products directly on the Lucas Oil Stadium field. Connected to the Indiana Convention Center and easily accessible from the parking lot, this new-for-2019 area allows for an expanded trailer display alongside the Show's popular Featured Products Showcase.
The allocation of additional space comes after PRI management moved all trailer displays indoors for the 2018 Show—a decision praised by exhibitors and attendees alike.
"Because Lucas Oil Stadium is connected and easy to get to from the Convention Center, it's the ideal place for our trailer exhibits," said PRI Trade Show Director Karin Davidson. "We saw great success from moving the trailers indoors and moving to the field this year will give companies in this essential market segment a larger area to display their products and conduct business.
The new exhibit area will continue to allow trailer exhibitors to showcase their product lineups alongside their booths and give attendees some of the best side-by-side shopping of race trailers, motorcoaches, haulers, and toterhomes.
"Attendees will now get an up-close look at a greater number and variety of transportation options," said Davidson. "They can easily compare available features and meet with more company representatives in one location.
This year's PRI Trade Show, held December 12-14 at the Indiana Convention Center in Indianapolis, will feature over 1,100 companies exhibiting in more than 3,300 booths and showcasing the latest products, services, machinery, simulation and testing technologies, and trailers for the racing industry in a single location.
Now in its 32nd year, PRI encompasses all forms of racing and attracts attendees from all 50 states and over 70 countries, including professional race teams, retail shops, warehouse distributors, engine builders, fabricators, dealers, installers, jobbers and media.
Numerous conferences and seminars, among them the Race Track Business Conference and International Council of Motorsport Sciences' Annual Congress, offer unlimited business opportunities and provide invaluable insight on the latest technologies and how to apply them throughout the racing world.
Known as Race Industry Week, the days leading up to and including the Show will offer a range of motorsports-related activities in and around the Indiana Convention Center beginning on Monday, December 9
To register for the 2019 PRI Trade Show, secure hotel reservations, and sign up for free business seminars, log on to prishow.com.
The NATM Compliance Verification Program (CVP) is a mandatory program for all NATM member trailer manufacturers. This program involves multiple components, all of which are geared toward creating safer trailers and in turn, safer roadways.
The program begins with the Guidelines for Minimum Recommended Manufacturing Practices (Guidelines). The Guidelines are a compilation of applicable Federal Motor Vehicle Safety Standards, regulations, and industry best practices – all found in one easy to use, organized compendium. The purpose of the Guidelines is to create easy access to reference materials and federal regulation with which trailer manufacturers are required to comply.
NATM then provides technical support in understanding and applying these often complex regulations to trailer construction.
Through the CVP, it is the mission of NATM to educate our member manufacturers on those requirements set forth by governing bodies. With this free flow of information and open lines of communication NATM members are provided with access to resources and information that can often be time consuming and difficult to compile on their own.
Members then undergo a biennial consultation. The consultation features an extensive checklist of items, all pulled from the Guidelines, intended to ensure member manufacturers have the processes in place to build trailers in accordance with federal safety regulations and industry best practices. A key component of the program is that an independent third party from NATM, knowledgeable in the requirements, conducts the consultation.
Members then undergo a biennial consultation. The consultation features an extensive checklist of items, all pulled from the Guidelines, intended to ensure member manufacturers have the processes in place to build trailers in accordance with federal safety regulations and industry best practices. A key component of the program is that an independent third party from NATM, knowledgeable in the requirements, conducts the consultation.
Though the following is not a complete list, the consultation includes a review of the following items;
Administrative: WMI number, information current with the National Highway Transportation Safety Administration (NHTSA), record keeping (i.e. tires, Early Warning Reporting, etc.), Vin Labels, and Owner's Manuals
Safety Standards: safety chains or cables, brakes, emergency breakaway systems, rear underride
Lighting: as required for trailers 30 feet in length or longer or trailers under 30 feet in length, as required for trailers 80 inches in width or wider or trailer under 80 inches in width
Conspicuity Tape: as required for trailer 80 inches in width or wider and 10,001 lbs. GVWR or larger
Recommendations: various recommendation based on industry best practices. All NATM trailer manufacturer members are required to successfully complete a compliance consultation. Once a member has done so, they are able to purchase and place NATM Compliance Decals on their trailers.